User Guide For Landwind Non-contact Infrared Thermometer LWFT118 with instructions.
It is an infrared based thermometer which means it will detect the emitting infrared rays from any object and will grade it accordingly.
It is a sort of simple and sleek device, very handy and easy to use. Different controls are given for the usage.
First of all, unpack the thermometer from the box and see what is given along with it. Get 2 AAA batteries and install them inside the gadget.
There will be a button named "scan" press it.
It will power on and is ready to use.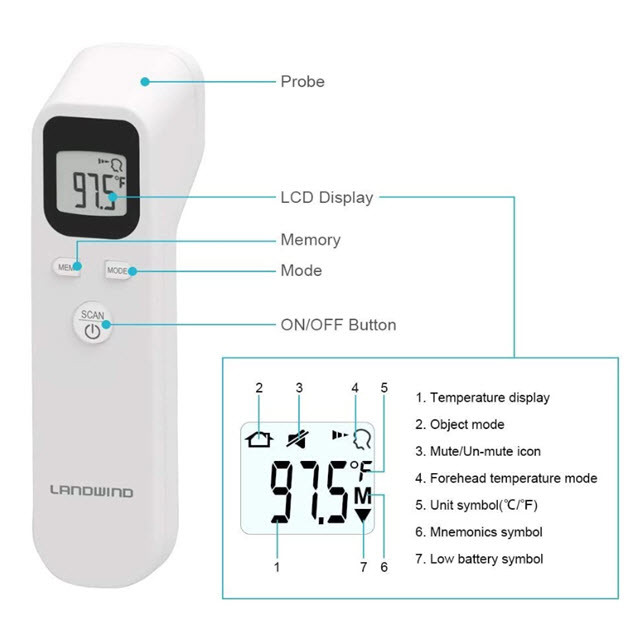 Point it towards the subject, like the patient's forehead and then again press the same scan button. It will record the temperature within seconds, just look at the display and note the reading.
It is a multipurpose thermometer, having different modes in it. A mode for object and another mode for subject(human). Press the mode button and it will turn object mode. Now point it towards the warm water or anything else for testing purposes and measure the temperature.
This is the simple manual for running the landwind thermometer, A little testing will get you used to it. Just try testing three or four times and you will get the hang of it.
Mode button has another functionality, long press it and you can switch between Fahrenheit and Celsius measurement scales. Choose the one which you like.
Have a look at our recently posted article : Choosing the best rectal thermometer for infants.
Note: Must check the mode before operating it on anything. As object mode tried on human can give false readings and vice versa.
Instructions you must keep in mind while using infrared thermometer
Sweat, hair, hat or other clothing on the forehead or upon any measuring object can affect the readings.

If ambient temperature varies greatly, try to take the reading with some time gap.

Try to measure the temperature within close range of 5cm
Landwind infrared thermometer lw ft118 is a kind of professional non-contact infrared forehead thermometer, which can measure human body temperature by receiving infrared radiation from human forehead. This product is suitable for using in school, home and hospital to measure the temperature of adult and infant.
Advantages:
1. It is very easy to use, just need to point the thermometer to the forehead and press the button, then it will show the temperature.
2. It is very accurate and reliable.
3. It is very convenient and portable.
4. It is safe to use and does not have any harmful effects on the human body.
5. It has a large LCD screen which can display the temperature clearly.
6. It has a fever alarm function, which will alert you when the body temperature is high.
7. It has a memory function, which can store up to 32 measurements.
8. It is powered by 2 AAA batteries (included).
9. It comes with a carrying case for easy storage and transportation.
10. It has a one-year warranty.
Disadvantages:
1. It is a bit expensive.
2. It is not suitable for measuring the temperature of babies or children under the age of 3 years old.
3. It is not suitable for people who have dark skin.
4. It is not suitable for people who are sweating.
5. It is not suitable for people who are in a moving vehicle.
6. It may give false readings if there is any condensation on the lens.
7. The batteries may need to be replaced after some time.