Wood stove is not easy to set up, while calibrating the temperature in it is another task. The taste of food made on a wood stove is very much liked, what if it is cooked with proper knowledge of the heat in it.
Sometimes more wood is pushed into the stove and sometimes less. Which contributes to the temperature built-up within the stove. One must have the digitial and valiant gadget for the proper measurement of the status within the wood stove.
A lot of best wood stove thermometers are mentioned, among them choose the one with the best suitability to your setting.
Why do we needed a smart wood stove thermometer?
Wood stoves use wood as a fuel, one cannot measure how much wood be needed to reach a particular temperature. Its better to have a thermometer which can measure the temperature exactly around which we want to cook our food.
Durable and reliable thermometer for wood stove will make sure that we are not undercooking or overcooking anything. Right temperature for the right recipe will make it tasty. Otherwise you never what will it taste like after a long procedure of cutting and cooking dish, ultimately turn out to be not tasty will ruin the day. 
Besides, you needed it for a few time experience, afterward you will learn the in and out of your stove and it will not be difficult for you to cook any recipe.
Do you have big green egg, then go accordingly for the best thermometer for big green egg as we have listed brief reviews them too.
1- Galafire Magnetic Stove Thermometer
It is an easy to install wood stove thermometer, with a durable build so it won't be damaged by the heat. The reading is very much clear, you will see the dial moving up with the temperature. There is orange color in the dial for optimum temperature indication.
Galafire magnetic stove thermometer is very much easy to install, as it has the magnetic, so you can install at the top or side of it.
The build is of aluminium, which is an excellent durable and conductor material.
We needed an excellent conductor, because air passing through the stove pipe is a bit cooler than the one directly coming over the stove. So we needed good conductor material for accurate measurement of readings.
The range of temperature measurement is from 100 to 800 Fahrenheit, which is shown with white dial over the background. This makes it much more prominent to read from a distance.
Manufacturer offers 2 year of warranty, which itself is the evidence of their trust in the products durability and efficacy.
2- Taylor Large Dial Oven Thermometer

Taylor precision store manufacturers a large dial oven thermometer, which can be used to measure the temperature of an imperial wood stove. It has got a big dial, which is very much easy to read. 
The range is a bit lower than the Galafire thermometer, it is around 100 to 600 Fahrenheit, when you convert it to Celsius, it comes around 50 to 300 Celsius. 
The built and design is of durable stainless steel, so don't need much care in handling, though one should be careful.
It has a rest bottom, so place it anywhere over the stove, it will sit like it fits into it. Another way to install it is via hanging with some steel wire or strong tether from the above. Taylor has won the 2nd best position being the smart and good choice for a stove that is based on wooden fuel.
3. Etekcity Infrared Thermometer 774
The safest way to measure the temperature of any object is via the use of an infrared based thermometer. Etekcity 774 thermometer is also an infrared based thermometer which can be used for the measurement of temperature of stove, meat, yogurt or any kitchen item.
The down side of it is that it measures the surface temperature only. In order to have the temperature of the core of the item, you have to opt for a probe based thermometer. 
While with this thermometer, just point it towards the source and then click the button. It will give a beep and see the readings. Point the gun towards the object, closer the point, accurate the reading will be.
You can convert the reading from Fahrenheit to Celsius with just one click. Large LCD based backlit screen is very nice to have. Besides, it is very easy to operate and read. To save battery life, it has auto shut off functionality, just leave it as it is and it will turn off after 15 seconds.
Point the gun towards the stove or the wooden fuel and see its temperature.
4. RubberMaid Monitoring Thermometer
Rubbermaid thermometer is diverse in use, can be utilized for ovens, grills, smokes and stoves. It gives the temperature measurement within the range of 60 to 580 Fahrenheit. Dial is also marked with Celsius grades, so the range for Celsius scale is 20 to 300 degrees.
Rubbermaid is designed to give it a professional look, along with instant read functionality. It gives your food a good taste as it is very quick to reflect the temperature.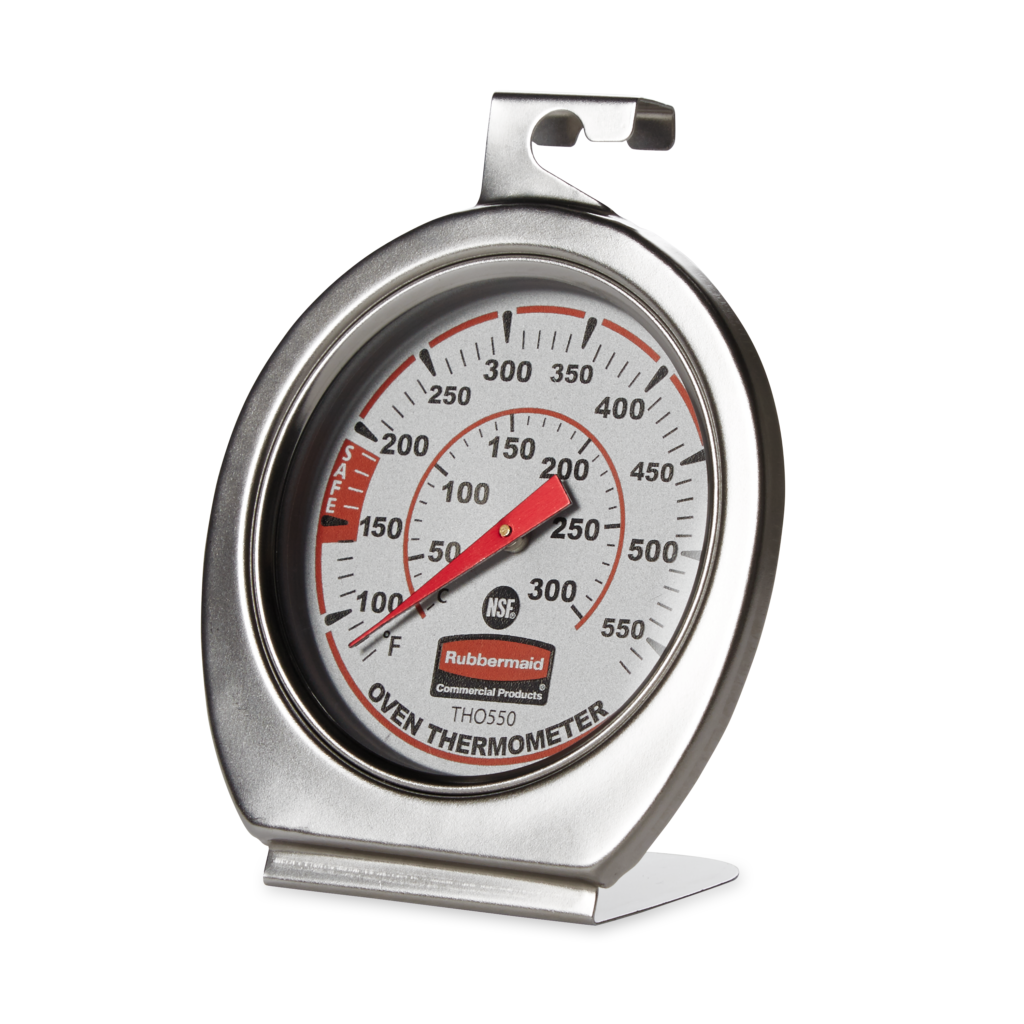 It is reliable in the sense of its efficiency and durability. The built and design is very strong, to give it a shatter free resistant tag.
NSF certification is required for the gadgets used in kitchen work, This too has got NSF certifications. Besides, its machinery is based on mechanics, so there is no need for a battery for its usage. So no need to worry if you are thinking about contaminating the wooden stove with this gadget.
Simple Queries Related to Wood Stove
Where do people set-up wood stoves?
Confused between stove top vs stove pipe?
Where there are no gas pipelines or other fuel availability, people do set-up wood stoves to get along with life. Others, who do camping have to rely on wood stoves. While a lot of countryside people have wood stoves installed into their kitchen.
So they are very much used to it. While a new guy, cooking stuff on such stoves needs a little help in the start. One must carry a few gadgets to help him make the best out of it.
How to Install a wood stove thermometer
It depends upon the design of the stove. For a long stove having pipe going outside the chimney, you needed a thermometer with a probe that can be attached to the pipe. Infrared thermometers are yet another form of it, that can be utilized even from a distance. Just click the button and it will show the reading.
In short it depends upon the type of thermometer you are getting. There may be hanging, probe and based type. Based or bottom type, rest on the stove and give the reading. Hanging types are hung with a wire so it can measure the temperature.
Some do have a magnetic cover that sticks to the stove of iron. So it really depends upon the design of your wooden stove and the thermometer you choose.
Life of a normal wood stove thermometer
There is a life to everything, same goes for a stove thermometer. One should have the knowledge when to replace the gadget as it is of no use after a certain period of time.
Look at the warranty claim of the thermometer, it is a sort of sign that it will work awesome in its warranty claim time. This is not a hard and fast rule though. Another thing to have an eye on is its reading efficiency. You will observe that it is not measuring the temperature as quickly as it was doing earlier. Besides, its dial may take more time to reach the same scale where it was taking no time.
I another article of thermofora we have reviewed the best thermometers for candle making process.
Do I need a thermometer for every stove?
No, own one thermometer and use it for every stove you have. While for commercial services, you should buy extra for every stove. Because each thermometer has its specific life. If you use it vigorously over time then it will wear out very soon. Otherwise for normal usage, one is enough.
See also : infrared based Xjcx thermometer with manual and specs.
Benefits of Wood Stove Thermometer
What are the benefits of using a wood stove thermometer?
There are a variety of benefits that come with using a wood stove thermometer. Some of the most notable benefits include:
1- Improved safety: One of the most important benefits of using a wood stove thermometer is that it can help to improve the safety of your stove. By monitoring the temperature of your stove, you can help to prevent accidental fires and other accidents.
2-Better performance: Another benefit of using a wood stove thermometer is that it can help to improve the performance of your stove. By keeping the temperature of your stove at the optimal level, you can help to ensure that it burns more efficiently and produces less smoke.
3-Reduced fuel consumption: Finally, using a wood stove thermometer can also help to reduce the amount of fuel that you consume. By keeping the temperature of your stove at the optimal level, you can help to reduce the amount of time that it takes to heat up and that in return will reduce consumption. 
Are you a keen cooking enthusiast, we covered here Best Oil Thermometer For Deep Frying that will help you in kitchen alot.
Buyers Guide to know before finalizing the thermometer
Some general guidelines that you may want to consider include:
1- The size and shape of your wood stove
2- The type of fuel you burn in your stove
3- The climate in which you live
4- Your personal preferences
Types of Wood stove thermometer
1-Dial thermometers: Dial thermometers are the most basic type of wood stove thermometer. They typically consist of a simple dial face with a needle that indicates the current temperature.
2-Digital thermometers: Digital thermometers are slightly more advanced than dial thermometers and usually feature a digital display that shows the current temperature.
3-Infrared thermometers: Infrared thermometers use a beam of infrared light to measure the temperature of your wood stove.
4-Wireless thermometers: Wireless thermometers are the most advanced type of wood stove thermometer. They typically feature a digital display that shows the current temperature and can also be controlled remotely using a smartphone or other mobile device.
Here is the list of Best Hvac Thermometer along with manual instructions and review.
Final Words
There is a lot of list of best thermometer reviewed in different genre, do finalize what suits you best. Budget is not a thing you should be judging for. Rely on durable and efficient device, because it is a one time investment. It will be useful to you for many years. Though you will get to know your stove and it will no longer be of your use for calibrating the wood stoves temperature. Later on, it will be helpful to you for measuring grill, bbq and other kitchen item's temperature.  
Guide to Use wood stove thermometer