Best gadget for measuring the temperature and humidity for reptile pets. A few devices that you needed to have a check on your terrarium setup of frogs and other amphibians, includes a thermometer and hygrometer. What if I tell you to get both in one gadget to reduce the hectic of monitoring and get your focus on many other things.
Temperature and humidity are needed to be regulated according to the need of the pet. Amphibians ancestors were raised in thick forests and they do have got sort of mid-ranged dry skin. So to have them nurtured, one must be needed to provide the environment that mimics the thick forest. Specific temperature and humidity which a particular species needed can easily be searched over the internet, while a few of them will be covered in this article as well.
Here is the list of top picks of the best thermometer and hygrometer for terrarium use, have a look at each of them with pros and cons and see which suits you the best.
Thermofora does frequent articles on different topics like 5 best thermometers for candle making or top pick for best thermometer for big green egg in 2023.
1. Zoo Med Labs Digital Thermometer Humidity Gauge Combo - Best for Reptiles
Among the top choice here is the one thermometer/hygrometer for terrarium. One of the reasons behind its likeness is the separate probes for the thermometer and hygrometer, which gives ease of use and accuracy as well.
To mount anywhere in and around the tank, it comes with a suction cup. This suction cup makes attachable to the flat surface, so it can be placed there to prolong the time of its recording.
One thing you must care about is, not to let water droplets touch the probe. What it will do will alter the reading to all-time 99% humidity. The reason is simple. Avoid this via mounting it to as higher within the tank as possible.
2- The Zilla Terrarium Thermometer-Hygrometer
Zilla comes with two choices, one with a hygrometer and another without it. For use in a terrarium, one must opt for a gadget with dual functionality. This is rated best among the economic thermometer for terrarium use.
Zilla provides the temperature range of -58 to 158 Fahrenheit that is what required for running a system of amphibians as pets. This has good accuracy coverage as well.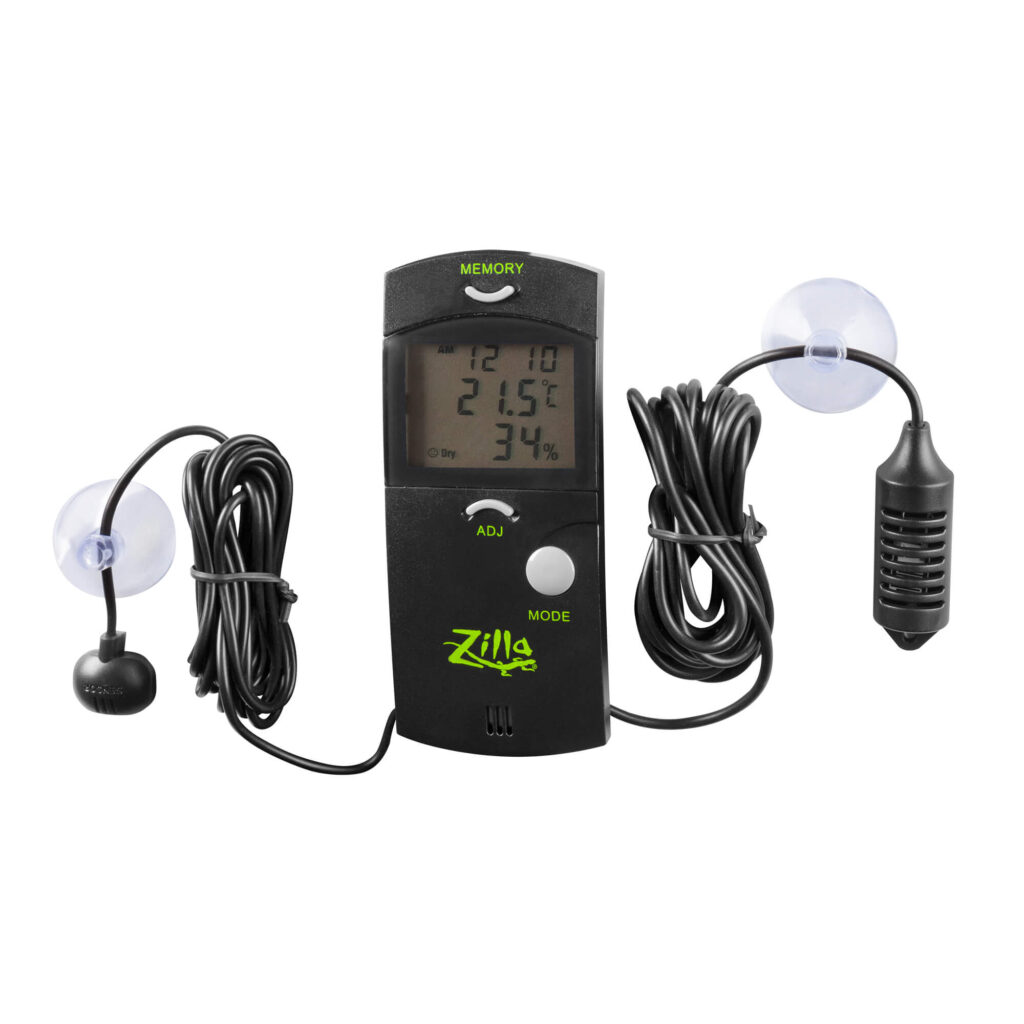 Its extra-large probe cord that is around 39 inches gives the liberty to be used in multiple setups as well. You can use the same for the aquarium to monitor its environment as well.
Suction cups make it very much effective to give humidity readings as good as possible.
It's a battery-run gadget, with a clean LCD screen for reading. Besides, there is easy switching between measuring scale that is Celsius and Fahrenheit. Look at all the features before opting the hygrometer/thermometer for your pets terrarium.
3. Exo Terra Digital Hygrometer with Probe
Another 2 in 1 hygrometer and thermometer for your pet amphibians that is great in working for Exo terra terrarium. It comes with all the settings and mount that is particular to its own branded terrarium If you have the same one, then this is something you should go for above all.
Accuracy, measurements and range, all are covered in this. It is also preprogrammed to store minimum and maximum memory of recordings in it, this is to help you out in judging the whole day activity within the terrarium.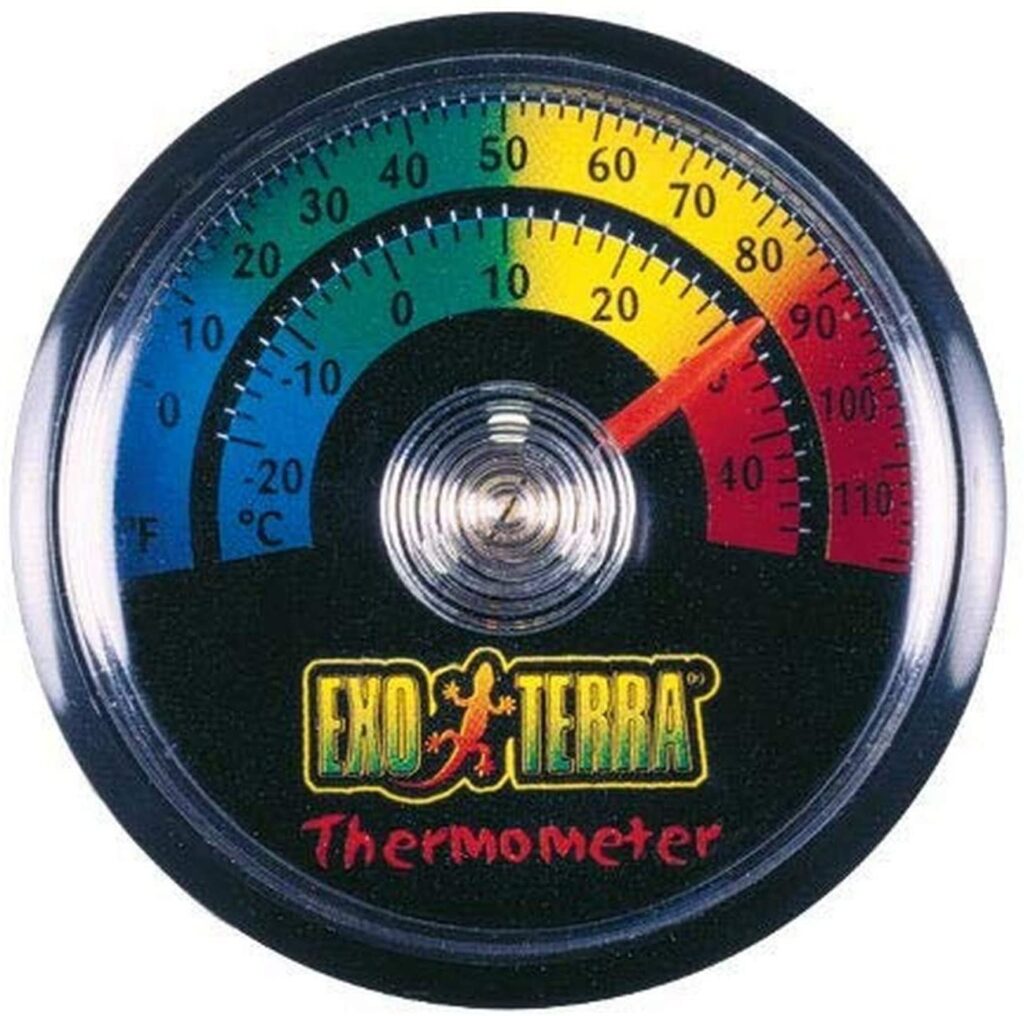 It's a single button operating gadget, just install it and see it working. Its use doesn't restrict it for the measurement of temperature and humidity just within the Exo terra branded terrarium. It is up to you, how you can mount it in other tanks, aquarium or terrarium. Have a look at the strips and screws and then decide if you want to use it with some else terrarium of your design.
4. Repti Zoo Reptile Terrarium Thermometer Hygrometer Digital Display -Best Thermometer for Bearded Dragon
The gauge of the Repti Zoo thermometer is painted with different colours each defining a different category of temperature. Like white for cold, green means comfortable, while red shows the degree of warmth of heat.
It is having a back with a sticky surface that is to mount it on different objects. Install it on a variety of setups like terrarium, aquarium and incubators to have a check on hatching eggs.
It is an analogue thermometer that gives readings in both degrees that is Celsius and Fahrenheit as well.
5. Carolina Custom Cages Reptile Digital IR Surface Thermometer
The Carolina Custom Cages reptile digital IR surface thermometer is a reliable and accurate way to measure the temperature of your reptile's habitat. The red dot pointer makes it easy to see the temperature at a glance, and the battery life is long-lasting. This thermometer also features a large LCD display that is easy to read, even in low light. 
The digital IR surface thermometer is a must-have for any reptile owner. It is a simple, straightforward way to monitor the temperature of your reptile's habitat and ensure that it stays within the proper range. Thanks to the Carolina Custom Cages reptile digital IR surface thermometer, you can rest assured that your reptile will always be comfortable and safe.
Specifications and features :
– Large LCD display
– Easy to read, even in low light
– Battery life: up to 12 months
– Accuracy: +/-1 degree Celsius
– Dimensions: 4.5 x 2.8 x 1 inches
– Weight: 3.2 ounces
– Red dot pointer for easy temperature reading
– Batteries included
Common Pet Reptiles and Their Acceptable Humidity Levels
Different species have got their requirements in terms of the environment they are having around. One with the livelihood of dense forest needs to have a higher humidity level. Vice versa for others. Have a look at some species with high, moderate and low humidity requirement.
High relative humidity
Green iguanas, Chameleons, Frogs, Basilisk, Salamanders, Spiny-tailed monitor, Mountain horned dragon, and Water dragons
Moderate Level of humidity
Ball pythons, Kingsnake, Corn snakes, Tortoise, Toads, Crested geckos
The lower level of humidity
Bearded dragons, Uromastyx, Leopard geckos, Chuckwallas, Bluetongue, Skinks
Wanna try a thermometer for wood stove, here the list for wood stove thermometers which you can look before opting one.
Buyers Guide: Features of best reptile thermometers and hygrometers
a). Digital or analogue – thermometer gun plus hygrometer ?
Digitals are easy to read and so can be said accurate more than analogue. While the choice is totally on users. Analogues too have different sorts of importance. Some come with different colour grading which helps in easy understanding of reading at your first glance.
While digital gadget can store the minimum and maximum recordings of the day. So I would highly recommend going with a digital one until you got some extra feature with analogue.
b). What suits Your terrarium?
Talking about the suitability, one should bear in mind what type of terrarium he is having. Many of the terrarium setups come with recommended brands to support their gadgets installations. Other gives plenty of options for mounting on its surface. Cord or probe length is yet another thing to look for. For a deeper container, one should go for the lengthier cord he can afford. On the other hand, little aquariums like setups can be run with simple gadgets with little cord length.
c). Display for temperature and humidity readings
As we already discussed the analogue gadgets have different display than digital ones. Within digital thermometers, there are a lot of display variants. The wide display is mostly liked by the users because of all the details it covers. Like, max and min recording, clock time and current recording.
d). Durability assessment
Durability can be assessed from the material built of the item. Another indication of the durability is the warranty being offered by the brands. The longer the duration of the warranty, the better is their durability. Some of them are not waterproof, so make sure not to dip them within the tanks. Another thing one should care is about the droplets upon the probe. If a few droplets touch the probe, it will alter the readings and will show maximum humidity recorded. So avoid contact with a water level.
e). Accuracy and range of measurement.
Range, which we needed is from a few minuses to 50 degree Celsius at most, and many gadgets do cover the range. Even cover more than that.
f). 2 in 1 combo availability
We want to minimize the hecticness of the terrarium setup as much as possible. This is possible with the least number of gadgets covering the maximum of the requirements. I won't suggest buying thermometers and hygrometers separately, just choose the one giving both the options. Besides, humidity is easily covered by these gadgets, all you need is to focus on the accuracy and range of the temperature measurement of these gadgets.
g). Price tag
I would highly recommend paying even bucks for a gadget offering good accuracy, a wide range of coverage, easy to mount function and good probes functionality. Whereas a lesser amount deserves if each of the features is being cut from the tool.
Thermofora also reviewed the best thermometers for yogurt making in your kitchen.