Whether it is a farmhouse pool or some natural spa, you should have a nice gadget in your drawer. Some of the best-rated pool thermometers are listed, which can be analyzed one by one. Go with the one you think suits you the best. While at the end of the article, I do have mentioned the things you should be keeping in mind while finalizing the thermometer.
Why it is so important to have a pool thermometer ready
In this modern era, everything goes by evidence and scientific proof.  The body's overall health is being controlled by the homeostasis and equilibrium of temperature within us. Having an extreme temperature for a longer duration severely damaged the health.
Skin is the largest organ of the body, which is spread to cover the body and is prone to all the possible temperature hazards. Too high a temperature is irritating and can cause skin burn and sores. Hair is also damaged if washed with heated water.
On the other side, low temperature is also dangerous. Don't jump into the freezing water as it can cause pneumonia or lung damage. It slows down the nervous system as well.
Pool hygiene also requires a specific mid-range temperature so it cannot be the den of germs for you.
After all, the personal preference of a person is also important while enjoying the swimming pool. Some people tolerate well low temperature and enjoy it too. As the weather is also a factor to have some preference in this regard.
The significance of this brief discussion is to have a thermometer floating in your swimming pool before your feet get wet.
1. GAME 14030-BB Solar Digital Pool & Spa Thermometer
It has got a good rating for its display. it is having an awesome and broad LED display to show and record the measurements. It has a double display, so any look at it will demonstrate the readings. It comes with a tether to be used in the pool, so it does not get fogged or any other damage.
Game 14040 is a solar-powered gadget that works in sunlight. You don't need any batteries for it. It needs a much lower power, that is why works even in the cloudy day.
Switch the temperature reading among Fahrenheit or Celsius, whatever suits you best. The accuracy with which it comes is a lot better than many.
A longline display is made for the efficient working of the pool thermometer, it gives the gadget a dip of like 5 inches, so to measure the temperature from the pool, rather than to have altered measurements of the surrounding.
Another good thing about it it's very resistant design, the company claims it to have shatter-resistant material.
After all, it's a good choice for you to have for the swimming pool.
2- Swimline 9250 HydroTools Solar Powered Digital Pool and Spa Thermometer

Another good choice of pool thermometer is presented by hydrotools. It is solar-powered, so gets charged from sunlight. It has got batteries, so no worries in dark clouds or night times. Let the gadget swim into the pool all the time, no need to worry about battery consumption.
A nylon cord is attached to the pool thermometer, so you can tie it to the pool ladder as well. This is to make sure the thermometer is in range of sight for the reading purpose.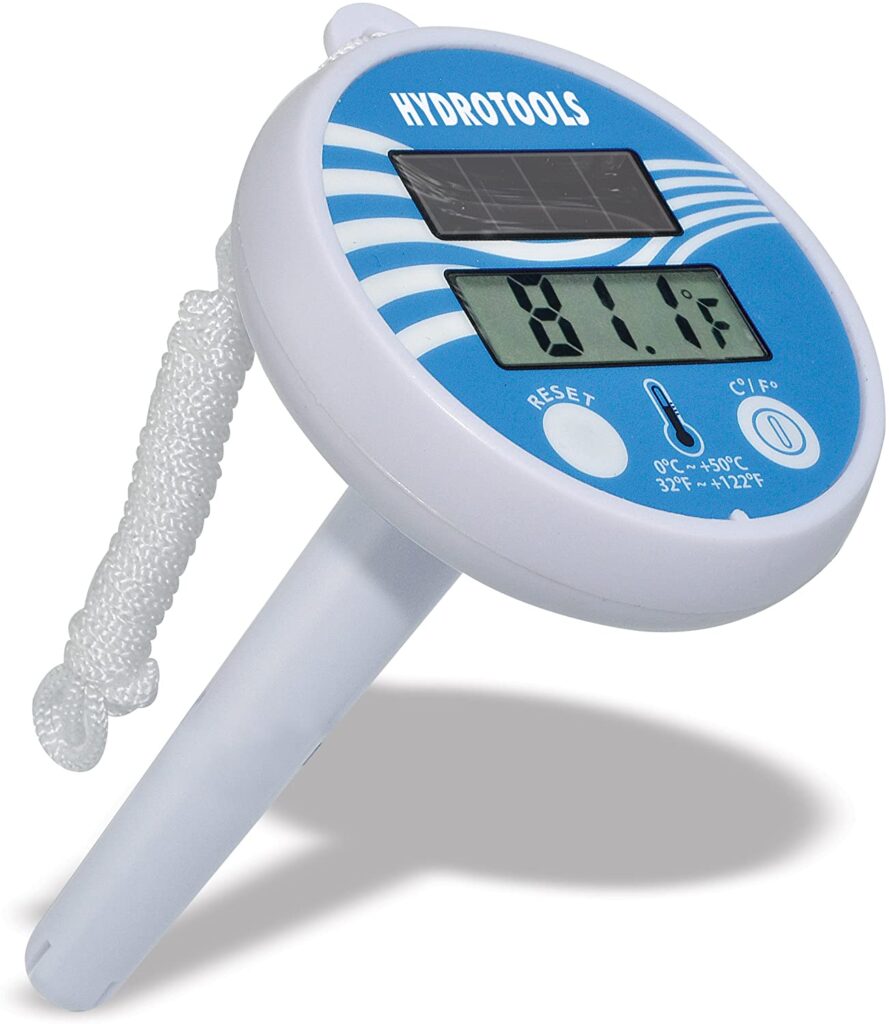 There is an easy switching possible between Fahrenheit and Celsius, so select the one you are comfortable with.
3. MotherMed Baby Bath Thermometer
The best choice among the pool thermometers being used by the parents for home pools for their kids. It has an awesome feature of alarm, which gets on when it is too cold or too hot according to the gadget set. Use it in any sort of pool water; it will give a reading ranging from 32 to 122 Fahrenheit.
It refreshes every 5 seconds to have an intermittent and accurate reading over time. Have a look at few readings and you are ready to jump in. Just be cautious to the alarm.
It also comes with auto shut functionality. If the device is set for no function for 30 minutes, it will turn off itself. This saves the battery in case you forgot to switch it off.
It's a waterproof pool thermometer, that may sink in a pool, while it is safe for use. Rinse it properly, if it's been contaminated in some dirty pool.
Besides, the body made up is of BPA free plastic; this ensures it doesn't dissolve in the pool or leave any tinge of smell in it.
It comes with an inbuilt battery, make sure to see it sealed. It has life for around about a year.
4. Ambient Weather WS-14 Wireless
Let the gadget float into the swimming pool and see the recordings via your console. No restriction for indoor or outdoor use over it, just throw it and turn on the gadget and you don't need access to the pool to get the thermometer in hand.
This wireless transmission of readings works from a distance of 300 feet, while for the extreme case of where a barrier comes in between, one can speculate to measure the recording with most accuracy under 100 feet of distance.
A fully waterproof guarantee is a must for the gadget with such sensors. So, no worries about the depth and length of the pool.
It will refresh the reading after every 60 seconds, so let it float and update the reading every minute. Record for the first 2 or 3 seconds and get an average of it.
Another strong point for the device is the 7 sensor monitoring system, which ensures the efficient monitoring of pool temperature.
5. B&H Baby Classic Duck Thermometer
 B and H classic duck thermometer for baby pools might be looking cartoonish or fun, but these are not less accurate as compared to many others. So they are very much reliable, like others.
Switch between the measurements of the temperature unit you want to see the reading in. Fahrenheit and Celsius's options are available; go with the one you like the most.
It has an alarm system at a certain temperature so it will beep once it touches the limit. The gadget is like a toy for the baby in the pool, but once the temperature goes off the limit it will set the alarm that will draw parents attention towards the baby.
Consider the outdoor pool under direct sunlight. Two hazards are expected, one is the melting of the material. It has built of such a PVC material that is not easily dissolved in water, no worries for the contamination. 2nd hazard, which bothers the most, is the rising temperature, which is already solved with the inbuilt temperature feature.
Besides, it covers a good range of temperature measurement, while it can also be used as a clock. Just set the time for the first time and it will keep on updating you the time on the screen as well.
When not in use for the bathtub, use it for measuring the room temperature as well. This 2 in1 function is also much popular.
6. SplashTech Floating Buoy Pool Thermometer
Measure the accurate temperature of the pool with a floating thermometer. It is being offered by splashtech, which is a well-known brand for pool-related gadgets.
Attached to it is a cord, to have it tied to nearby object or the swimming pool ladder. The display is awesome that is EZ based, which you can read in Celsius and Fahrenheit as well. Read the recording even from a very distance. This is an easiest to read thermometer among all.
It is made up of ABS plastic, very much resistant to fall. This durability makes it much popular among the gadgets which can be used very much roughly in outdoor settings.
The floating ability is due to the long and sleek design, which is very much lightweight for its buoyancy. Placing it within a ring makes it stand upright in the water, so you can try a ring if it is tilting a lot.
7. Lavatools PT12 Javelin
Lavatools offer a compact thermometer, offering instant reading. Alongside it's also a multipurpose gadget is as well. Give it a dip and you will see the reading on the display.
Multipurpose means, it can be used for measuring the temperature for the kitchen and other household things as well. You can measure temperature while cooking meat, making candle, even yoghurt as well.
The foldable and nice little design makes it an easy carry for your barbecue party as well.
8. GAME 14900 Floating Digital Pool Thermometer
It is another product from the Game store with the almost same design. While it's battery-powered if you don't want to be dependent on solar energy. So it's equally acceptable for the indoor and outdoor setting of the pools, hot tub, spa, Jacuzzi and ponds.
It has a thin and long design to escape the filter or skimmer, so it could be identified from even a distance. Another must feature of the gadget is its waterproof warranty, so you can leave it in the pool for as long as you needed.
Dual display, one on each side is good for far vision. Just have a glance and you will be able to read the recording at the spot. Besides, it's easy to switch between Fahrenheit and Celsius mode.
Included in the package are the cords and batteries.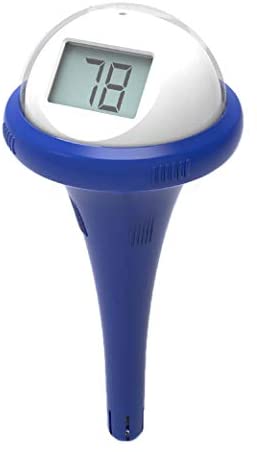 9. Pull together floating swimming pool thermometer
A nice design gadget that looks like a toy for the baby. Don't judge it from its look as it works well like other gadgets. It is designed like a turtle floating in a swimming pool, underneath it is the actual device measuring the temperature.
It is dual in function, not only it measures the temperature, but it can also bring a smile to the children face.
Pull together is a tough built gadget that is very much durable and reliable as well. It measures Fahrenheit and Celsius, whichever suits you.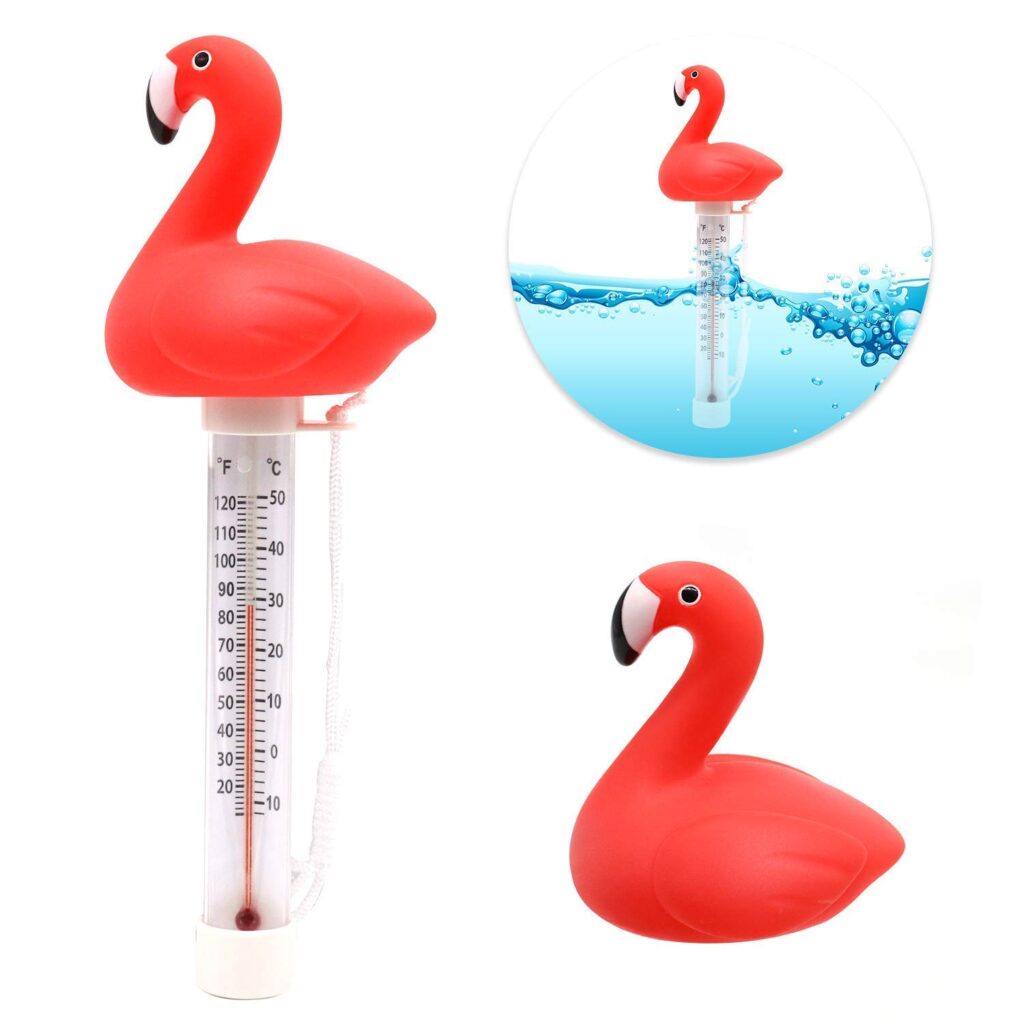 A tether is a must-have ingredient for any best swimming pool thermometer as it prevents it from sticking into the skimmer or going very far away in the pool, where it becomes difficult to read it.
10. Blufree Floating Pool Thermometer
Another reliable and durable fun thermometer that you can have for home pools is the blufree floating thermometer. This is an amazingly designed gadget having rubber fish on top to keep babies busy enjoying it while parents are bathing them.
The manufacturer offers 12 months of as a whole warranty and 3 months as money back. That gives us a good idea about the durability, this is why it stands among the best spa or pond thermometer category.
Numbers on it are very easy to read, just let it float and have idea about the temperature of the spa before jumping into it.
A tether rope is also attached, you may tie it to swimming pools ladders.
Things to Bear in Mind before buying any of pool thermometer
Reliability
As in different sorts of pool you should have other options too. In some pools where a lot of public is there, you needed a durable and shatter-free gadget. This is because in rush hours one may be struck by the gadget and cause its damage. While in the case of a home pool or baby bathtubs, you don't bother much about it.
Tether is another thing you needed with the thermometer. As in large pools and spa, you needed to have it in your range you can have easy access for reading purpose.
See also here best stove thermometer gadgets 
Design
Design is something you don't worry about in routine. Because all you want is the accuracy and efficiency of the thermometer. Here, you needed such a thermometer that can easily float. So floating thermometers are sort of good to have for the pool or spa use.
Another thing in design that new manufacturers came up with are the toys and fun shaped gadget. A floating thermometer with a shape of a duck or a plastic fish gives the child a lovely smile and something to play with. This way you can make them stay in the water, busy playing with the floating ducklings.
Ease of use
Ease of use and a quick setting is also needed in pools. One needed a thermometer that can easily be used indoor or outdoor as well.  Sometimes you are outside and don't need a hectic thermometer that needs calibration before every time usage. So don't go with such a gadget. Try the best spa thermometer which functions on the go. Just turn it on and bang, you get to know the temperature.
Power Source / Waterproof warranty
Thermometers of normal routine use are not suggested to try in the pools. Medical and room temperature measuring thermometers are not waterproof and their power supply source can also be contaminated with water. So avoid using such thermometers. While kitchen thermometers can be given try which is waterproof and has an inner battery source away from the surface.
There are a lot of gadgets that run through solar power. These are very much durable for ongoing use, with the condition that they must be expose to the sun. There comes other gadgets too, with battery along side solar panel. Such gadgets can be used indoor and outdoor as well.
Display
Though it comes under the design category, I have mentioned it here just to give it extra importance. The wide display is very important in floating category thermometers. Because you never know how far it may get into the pool. Even tethers allow it o go for several feet. So an ideal digital thermometer is one with a broad display that can show the digits from very far.
Wireless console
Yes, some thermometers give the reading on the console in your hand. Read the range of it and go if you like the feature.
Alarm
Some thermometers, especially baby bathtub thermometers come with an alarm facility as well. In which you set a range, having the temperature outside of it will set it on. This will make you alert towards the pool or whatever container you are using the gadget in.
The average life of a Pool thermometer
It's a day to day use item in the pool, so one may be worried about the average life of it. Average life can be expected from the reviews, price, brands and warranty. One with a good warranty offer and that too from a famous brand are much reliable to the contrary.